SmartPAN® is a first-in-class indicator aimed at reducing postoperative complications
Biochemical leakage indicator

SmartPAN allows surgeons to visualize pancreatic leakage, for securing complete tissue closure during surgery. It is a first-in class indicator aimed at reducing postoperative complications.
Get To Know SmartPAN®
The color change is detectable with the naked eye and supports the surgeon in the clinical setting by providing a rapid, localized identification of leakage.

Degradable starch microspheres
with pH indicator bound to its
surface and within its matrix.
Immediate color change in reaction
to pancreatic fluid.
SmartPAN is biodegradable
and left over traces are
eliminated from the body.
SmartPAN is a hydrogel of degradable starch microspheres, loaded with bromothymol blue (BTB). BTB represents a pH indicator, that has an orange color in neutral or acidic medium and a blue color in alkaline media.
This is how SmartPAN® works?
Visualizes pancreatic leakage immediately on contact with pancreatic fluid.
Applied easily to the surgical
closure site and generates highly
visible color indication when in contact with pancreatic fluid, indicating leakage.
Gives the surgeon confidence that
no pancreatic fluid is leakging at time of surgery completion.
Delivered as a sterile pre-packed syringe, ready to use SmartPAN enables the surgeon to localize pancreatic leakage, to evaluate quantity, and to adapt perioperative management, e.g. to perform targeted closure.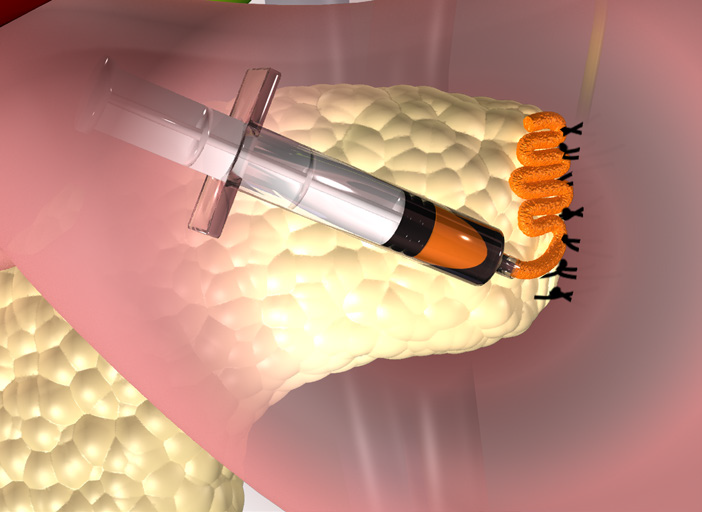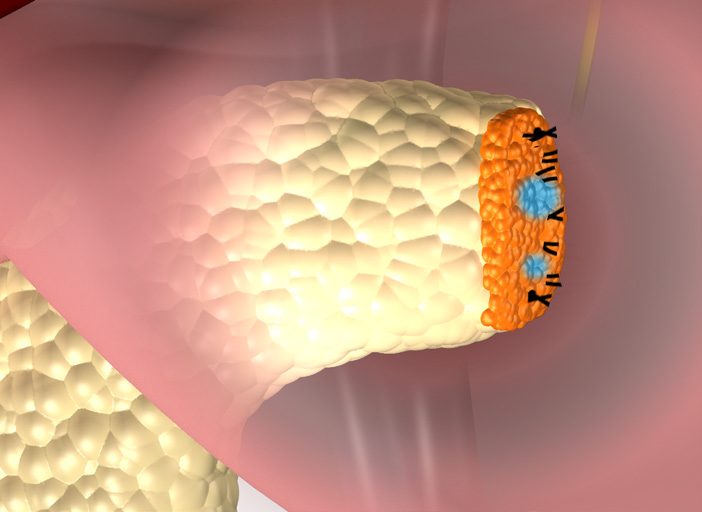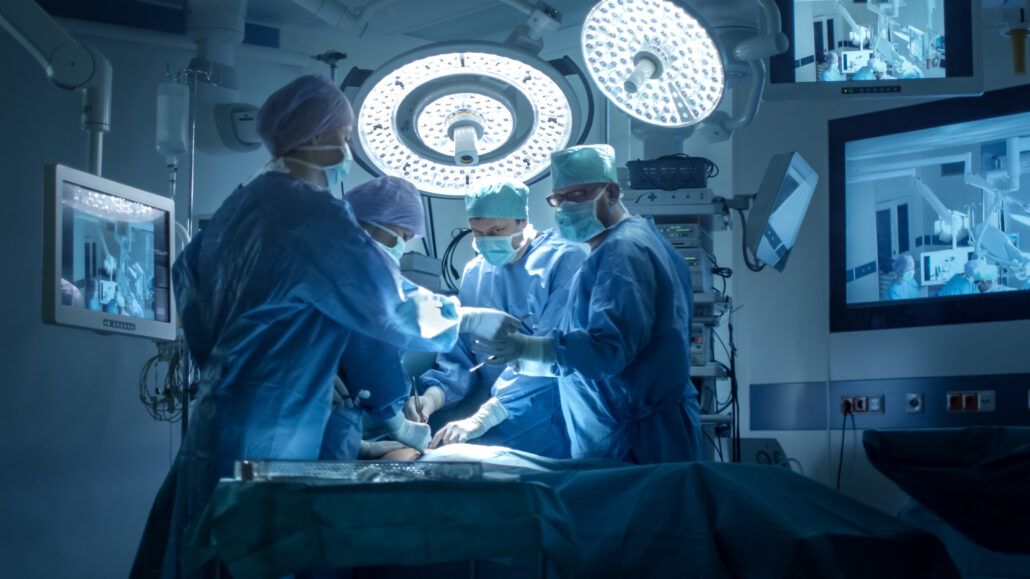 Challenge
Intraoperatively derived fluid from the peripancreatic environment may cause complications7, 9, 13.
At present, there are no reliable ways to indicate or visualize pancreatic fluid leakage during pancreatic surgery.
Intraoperative detection of pancreatic fluid
leakage may have an effect on reducing
complications.
Solution
Early detection of leakage.
Indicator of pancreatic fluid leakage showing high sensitivity and specificity in situ with a clear and immediate reaction.
Biodegradable and biocompatible.
Quick and easy to use in an operating
environment.
Indication possible with naked eye
– no need for additional equipment.
-